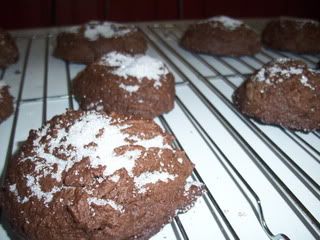 You'll need:
2/3 cup butter or margarine - softened
1 cup sugar
1 egg
1 1/2 tsp vanilla extract
1 1/2 cups flour
1/2 cup cocoa
1/2 tsp baking soda
1/4 tsp salt
1/3 cup buttermilk or sour milk
To make sour milk add 1 tsp white vinegar to 1/3 cup milk
How to make your own
Buttermilk
1. Heat oven to 350F
2. Beat butter and sugar in large bowl until well blended.
3. add egg and vanilla. beat until fluffy.
4. In separate bowl mix flour. cocoa, baking soda and salt
5. alternate between the cocoa mixture and buttermilk and add this to the egg & sugar mixture
6. lightly grease cookie sheet
7. use an ice scream scoop to put balls onto pan (about 2" apart"
8. Bake for 13-15 minutes. They are done when you touch the top and it springs back.
9. Lightly sprinkle with sugar, let cool on pan for 5 minutes. Then move to cooling racks. Let it cool completely.
* Makes about 1 dozen (they are large cookies)