This recipe is from Rachael Ray's 365 No Repeats cookbook and this one is a for sure MAKE IT AGAIN. It was sOOOOO tasty!!!
Cook the chicken, make your sauce, then pull the chicken apart into pieces, then heat with the sauce and put on the bun, yum yum!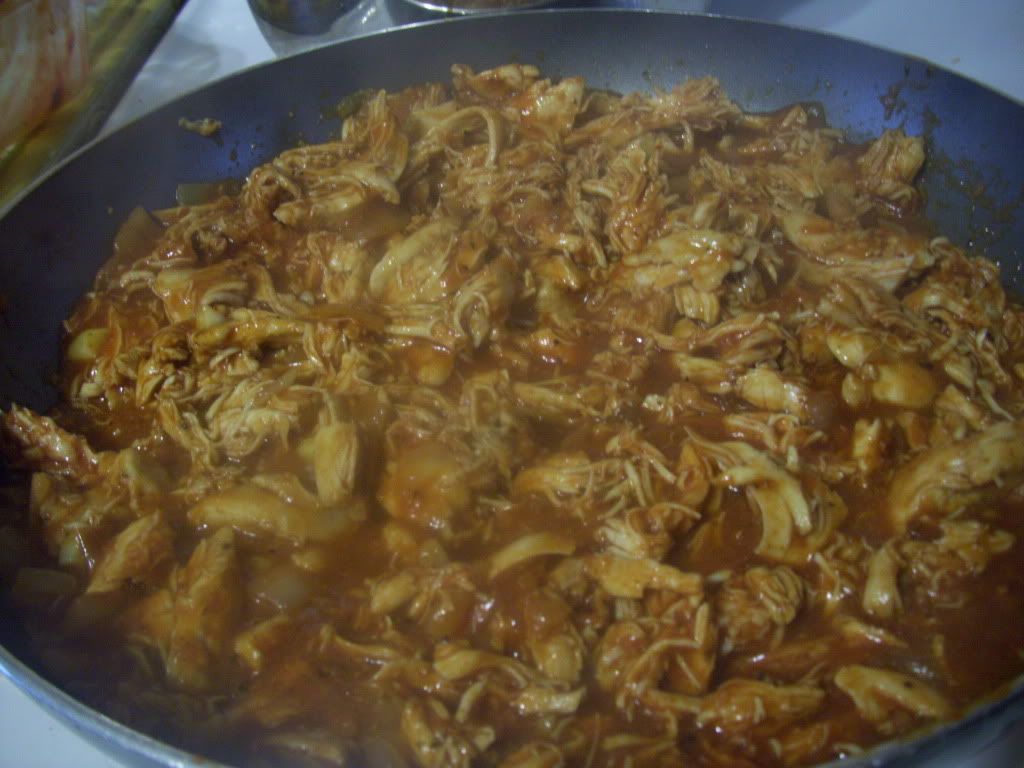 Chunk up 2 pounds of potatoes, play in pot of water and boil until tender 10-12 minutes
While potatoes are cooking bring the stock and beer to a simmer in a small or medium skillet.
Add chicken breast and poach for 10 minutes (turning once)
Heat a second skillet over medium-low heat. Add 2 tablespoon EVOO and garlic and onions. Once it's cooked through turn off heat.
Potatoes should be by now, drain and return to pot. add 1 ounces of hot peppers(chopped), 1 small red bell pepper (chopped) and 4 scallions (chopped) to the pot. Add splash of hot pepper juice and 3 tablespoons of wine vinegar. Toss to combine, drizzle with EVOO season with salt and pepper.
Combine 2 tablespoons or worcestshire sauce, 1 tablespoon of hot sauce, 2 tablespoons or grill seasoning, 3 tablespoons of dark brown sugar and 4 tablespoons of tomato paste in a bowl.
Add 2 ladles of the poaching liquid to the bowl and mix well.
Transfer chicken breasts to the bowl and use 2 forks to pull the chicken apart. Add the shredded chicken into the pan with the garlic and onions and combine well. Reheat for 5 minutes. You can add more poaching liquid to make it as saucy as you'd like it.
Add to buns and enjoy!