This is from Canadian Parents website
http://www.canadianparents.com/recipe/rockwell-bake?utm_source=_BM$RQ6B8WGq6jV&utm_content=dbnl6&utm_medium=email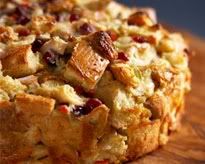 You'll Need:
2 Tbsp olive oil 30 mL
1 cup finely diced onion 250 mL
1 cup finely diced celery (including leaves) 250 mL
½ cup finely diced carrot 125 mL
1 clove garlic, minced
1 Tbsp finely chopped fresh sage 15 mL
2 tsp finely chopped fresh thyme 10 mL
1 cup dried cranberries 250 mL
¼ cup dry vermouth or water 60 mL
5 large eggs
3 cups 2% milk 750 mL (you can switch for 1% or skim)
1 tsp Dijon mustard 5 mL
1½ tsp fine salt 7.5 mL
¼ tsp ground black pepper 1 mL
8 cups diced day-old bread (white, whole wheat or mix) (1-inch/2.5 cm cubes) 2 L
3 cups diced cooked turkey meat (½-inch/1 cm cubes) 750 mL
2½ cups grated Swiss cheese 625 mL (to lower fat and calories try fat free cheese)
Directions
Preheat the oven to 350°F (180°C). Grease a 9-inch (2.5 L) springform pan and place on a baking sheet.
In a sauté pan over medium heat, add the oil and heat for a minute, then add the onion, celery and carrot. Sauté until the onions are translucent, about 5 minutes. Add the garlic and herbs, and sauté 1 minute more. Add the cranberries and vermouth or water, then simmer until almost all liquid has evaporated. Remove from heat and cool to room temperature.
While the vegetables are cooling, whisk the eggs to blend in a large bowl, then whisk in milk, mustard, salt and pepper. Add bread cubes, toss to coat and let soak for 15 minutes, stirring occasionally.
Stir the cooled vegetables and diced turkey into the bread mixture, then stir in 2 cups (500 mL) of Swiss cheese. Spoon mixture into the prepared springform pan and sprinkle with remaining ½ cup (125 mL) Swiss cheese. Bake for 60 minutes, or until the top is a rich golden brown and the center springs back when pressed. Let rest for 15 minutes before unmolding and serving.
Serves 6 to 8