So I've started my venture...366 recipes in 336 days. I started doing this 2 years ago...then gave up after 2 weeks. After watching Julie & Julia I really wanted to do it again - but this time finish it.
It will mean making more than one recipe per day. It might cost me my sanity. But I'm going to stick with this and get it done - and hopefully learn something about cooking along the way LOL
Recipe #1 Scramblewiches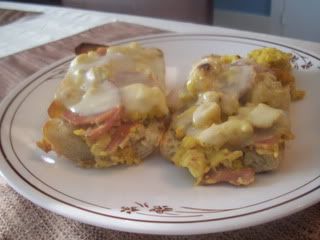 I went to the store last night and picked up the stuff I needed to make the scramblewiches...I was going to make them for supper last night but decided it would be a great breakfast :)
I cook everyday and yet somehow when I started to cook Rachel's recipe I dropped and egg and broke it. Then dropped another and it rolled across the kitchen floor. While cleaning the egg up the ham was cooking away and it smelled SOOO good. Absolutely divine.
I used ciabatta demi baguette which were the perfect size. The recipe makes A LOT of food, so we have half leftover to eat for lunch...not sure how it will taste after being wrapped up in the fridge for a few hours and then warmed up but we'll give it a shot.
I used black forest ham and provolone cheese (which hubby didn't enjoy). The provolone has a strong taste so if you're not into strong cheese I would recommend using just medium cheddar or mozzarella.
It really was a fast meal, as Rachael promised. Quick, easy, and even my 2 year old loved it so I give it 2 thumbs up!
Next meal is the Smoked Turkey Shephard's Pie....mmmmmmmmm I have made this one once before and it was delicious.
Stay tuned ;)
You'll need
1 baguette
2 Tablespoon unstalted butter
1/2 pound deli-sliced ham
8 large eggs
1 tsp hot sauce
salt and pepper
4 deli slices of Swiss Cheese (halved lengthwise to fit the bread)
chopped fresh chives or parsley
Preheat Oven to 200F
Crisp the bread in low oven, split it lengthwise and hollow it out (I found using a spoon made this easier)
Cut each bread in half, then across making 4 boats
Turn the broiler on
Heat large skillet over medium heat. Add butter and melt it. Add meat and cook for 3 minutes.
In a bowl beat the eggs with the milk, hot sauce, salt and pepper. Add to meat and scramble.
Divide eggs among the bread, cover with cheese. Melt cheese in broiler. Don't let the cheese bubble just melt. Garnish with chives or parsley and serve.