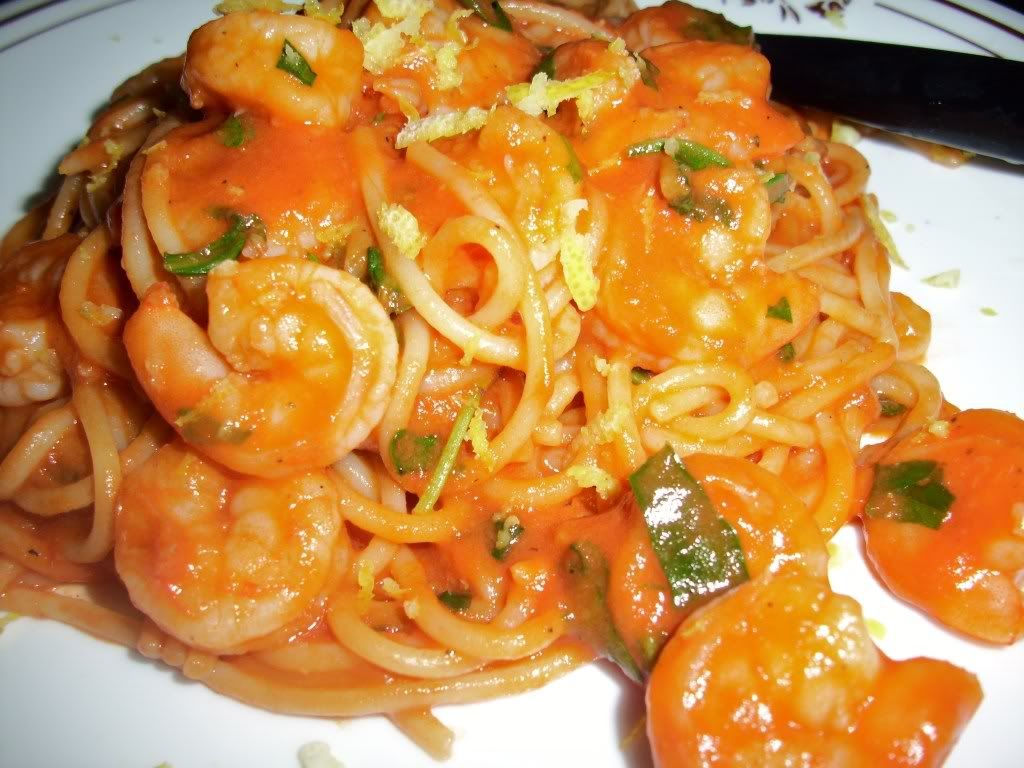 You'll Need:
455g dried spaghetti
• sea salt and freshly ground black pepper
• extra virgin olive oil
• 2 cloves of garlic, peeled and finely chopped
• 1–2 dried red chillies, crumbled
• 400g peeled raw prawns
• 1 small wineglass of white wine
• 2 heaped tablespoons sun-dried tomato purée, or 6 sun-dried tomatoes blitzed in a blender
• zest and juice of 1 lemon
• 2 handfuls of rocket, (Arugula) roughly chopped
Cook your spaghetti in a large pan of salted boiling water according to the packet instructions.
Meanwhile, heat 3 good lugs of extra virgin olive oil in a large frying pan and toss in the garlic and chilli. As the garlic begins to colour, add the prawns and sauté them for a minute. Add the white wine and the tomato purée and simmer for a couple of minutes.
When the pasta is ready, drain it in a colander, reserving a little of the cooking water. Toss the spaghetti with the sauce, squeeze in the lemon juice, add half the chopped rocket, adding a little of the reserved cooking water if you want to loosen the sauce a bit, and correct the seasoning.
Divide between 4 plates and sprinkle with the grated lemon zest and the rest of the rocket leaves.